Infinity Operation Red Veil (2-player Starter)
In the commercial area of the Neon Lotus Orbital Station, Yu Jing and Haqqislam spec ops teams fight for data that could reveal a covert operation to manipulate and subvert the financial markets of the Sphere.
CB heats up this summer with the release of its second Battle Pack! Because next July 4th starts the Operation: Red Veil pre-order!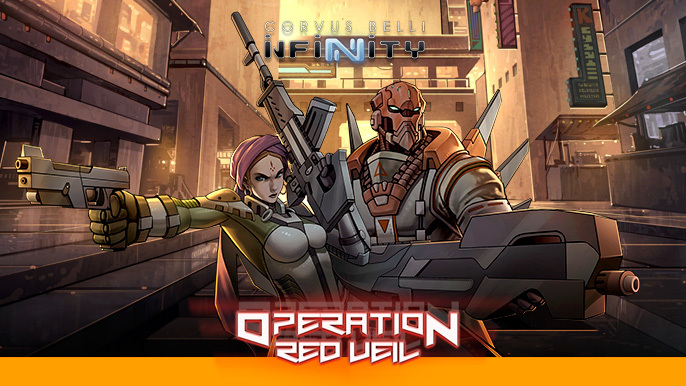 Infinity's Operation: Red Veil is a totally new product in the Infinity catalogue available this August. A box containing 14 miniatures belonging to two different armies, an introductory rulebook, scenery, dice… Operation: Red Veil has everything you need to start collecting Infinity or complete your collection!
In addition, Operation: Red Veil introduces the 3rd Edition of Infinity with a full-color 80 page rulebook (English/Spanish) containing five tutorial missions that make the Infinity core mechanics easy to understand.
In this book you will also find the background and troop profiles of each troop in the Battle Pack, one of which are totally new! There is also a brief guide to the Infinity universe, advice on how to delve deeper into it and a painting tutorial for each faction of this pack.
Operation: Red Veil contains two totally new and re-sculpted Starter Packs of two different factions: Yu Jing and Haqqislam. It also includes two exclusive miniatures, one per faction, only available in this Battle Pack, for a total amount of 14 highly detailed metal miniatures!
The Yu Jing Starter Pack contains the following figures: 3 Zhanshi, 1 Zúyŏng Terracotta Soldier, 1 Tiger Soldier Hacker and 1 Hsien Warrior. Plus: 1 Ninja with Tactical Bow, an Operation: Red Veil Exclusive Figure!
The Haqqislam Starter Pack contains the following figures: 3 Ghulams, 1 Khawarij, 1 Zhayedan and 1 Murabid Tuareg. Plus: 1 Al Fasid Heavy Infantry Regiment trooper (New troop profile!), an Operation: Red Veil Exclusive Figure!
To complete the game experience, the Battle Pack includes ready-to-play cardboard scenery (four buildings and six containers), a Game Mat, six twenty-sided dice (three with a Yu Jing design and three with a Haqqislamite design), as well as cardboard markers, templates and a ruler – everything you need to start playing!
Operation: Red Veil, an Infinity milestone!
Welcome to Ibuywargames – Your New Hobby HQ.
We actually stock all our items in our Shop which can be found in Woking, Surrey. GU21 5BG.
From Board Games, to Airbrushes, Card Games like MTG, and RPG games like Dungeons & Dragons, Games Workshop, The Army Painter, Bolt Action, Dropzone Commander, Malifaux Star Wars: X-Wing and Star Trek: Attack Wing. We try to hold as broad a range as we can for a FLGS.
Our Prices in store are 2nd to none, with discounts on RRP up to 20% off Including Games Workshop, The Army Painter, Star Wars X Wing, Star Trek Attack Wing, Warlord Games, Mantic Games, and Many More.
If you are unable to come and shop in our Woking store, we have the Ibuywargames website where we have an amazing selection of Games, Cards, Painting Materials and other Related Hobby items up for grabs with similar discounted Prices.
In store we also offer a Loyalty Card ''The Faithful Shall Be Rewarded'' for our Loyal Customers! Some Fantastic Offers, and a Massive 30% Off when you fill up your Card!
We hope to see you soon and Thank you for Supporting Your Friendly Local Gaming Store.